Fertiliser Advice for Cereals 2022
With the cost of fertiliser having trebled in many cases in the recent months this has changed the fertiliser advice that has been recommended up to now. Nitrogen prices in particular has increased dramatically since the summer 2021 and as a result is has changed the recommendations for all cereal crops based a recent review of the nitrogen response curves for each individual crop. Different cereal crops have a maximum recommended rate (Economic N optimum) of nitrogen above which it is generally not economic to apply any further nitrogen as the yield response will not cover the cost of the extra nitrogen applied, this is called the Break even Ratio (BER). At the recent National Tillage Conference Dr. Richie Hackett explained how the nitrogen rates for wheat and barley have changed based on the changes to the BER of wheat and barley. You can view Richie's paper from the conference here.
Please create an account to view hidden content
---
Soil Fertility Trends & Soil Sampling
In 2021 there was 3,794 soil samples reported in the Teagasc tillage soil sample database, this represents ~ 25% increase in soil sampling compared to 2020. Soil test results indicate the following:-
Soil pH <6.5 has increased by 8% compared to 2020. With 61% of soils with pH >6.5
57% of soils Index 1 & 2 for P, while 24% and 19% index 3 and 4, respectively
32% of soil Index 1 & 2 for K, while 28 and 40% index 3 and index 4, respectively
Soils with optimum pH, P & K has reduced from 24% to 18% in 2021
Overall slight slip in soil pH and P (+7% increase in Index 1 & 2) levels while soil K levels continue to improve in 2021.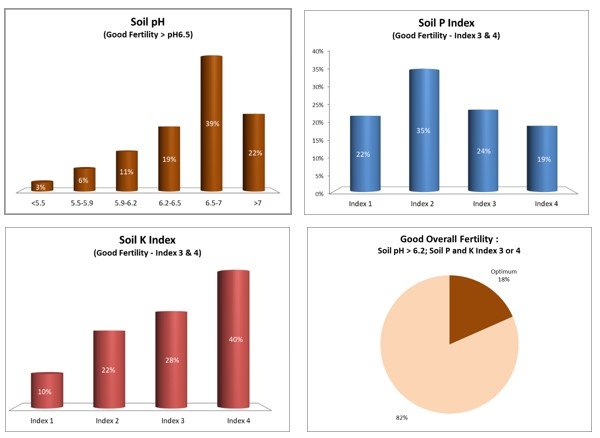 Figure 1:- Percentage of soils in pH ranges, soil P and K index and soils with optimum fertility.
In 2022 take fresh soil samples where samples have not been taken in the last 2 to 3 years. The soils database would indicate good opportunity to reduce omit K fertilisers in 2022 on Index 4 soils are now 40% of tillage soils very high.
Soil pH & liming
Soil test results indicate a slight slip in soil pH levels plus soils testing > pH 7.0 has decreased from 38 to 22% in 2022. This may be due to the soil sample cycle and different fields been sampled each year.
It is recommended to apply lime for spring crops over the coming days and weeks to correct soil pH levels to maximise soils and applied fertilisers (organic & chemical) efficiency.
---