Blackgrass and Wildflower and other mixes
The highly invasive blackgrass weed was found in a commercial wildflower mixture that was grown in an experimental plot in Carlow. If this weed is widespread in mixtures which were planted on farms, schools, gardens, and amenity areas across the country it poses a huge risk of contamination to tillage crops and the Irish tillage industry.
In recent years, Teagasc has had a policy of increasing habitats and improving biodiversity on all of its research and college farms. In Oak Park, which is predominantly in tillage, this has included establishing new hedges and field margins on cultivated fields. A range of field margins, from native grasses to mixtures of grasses and wild flowers, have been established. Researchers have been monitoring these field margins for beneficial insects and their impact on insect pests in adjoining crops. Additionally margins of native grass mixes of cocksfoot and timothy have been particularly effective in stopping sterile brome, which is a grass weed in cereals from spreading from the hedgerow into the crop.
One such field margin planted last autumn was a diverse mix of wild flowers and grasses. On inspection by the Teagasc farm manager in Oak Park, John Hogan in recent days, it has been noted that this mix was contaminated with blackgrass which is a particularly pernicious weed of cereal crops, if left uncontrolled it can produce up to 6,000 seeds per plant. These seeds will spread quickly by machinery or on plant material.
Blackgrass is widespread in the UK where it is also resistant to a wide range of herbicides and very costly to control. For more on Blackgrass herbicide resistance see here and a video of resistance testing in Oak Park here. And there is a series of videos which will help to identify grass weeds in the field here.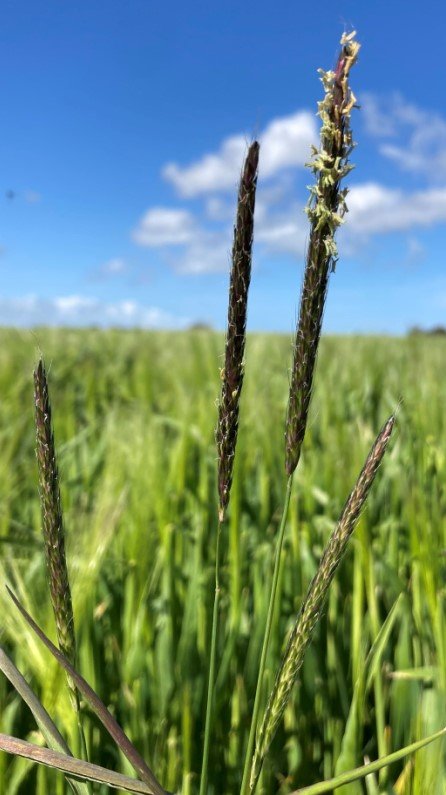 What steps should be taken if blackgrass is found in a crop (whether imported seed of wildflower or other seeds)
Blackgrass moves from heading in to flowering and seed set quickly. A blackgrass plant may have some heads which are flowering while at the same time others shoots on the plant may have finished seed fill and re shedding seeds for next year. If blackgrass is present and flowering, assume seeds have been set. Immediately remove the plants, and ideally remove the entire crop. Burn or dispose of this material off farm. Apply glyphostae to the regrowth to ensure all plants are controlled. Shallow cultivate a number of times this year and ensure to thoroughly inspect the area for the next 3 years to ensure there are no more blackgrass plants emerge.
Teagasc has produced a video here of the problem wildflower mix in Oak Park and other videos around identification of grass weeds (blackgrass) are also available on the Teagasc Crops YouTube channel https://www.youtube.com/c/TeagascCrops/videos
Certification of Wildflower (and other mixes)
There is huge interest in farmers and citizens who want to plant "wildflowers" to improve biodiversity and food for the bees. This increased interest has resulted in these seeds being imported from various different sources in Europe and further afield. Wild flower seed is not covered in the seed certification legislation – therefore there are no minimum standards for germination or purity. Where wild flower seed is traded the provisions of Article 5 of the Ornamentals Directive 98/56/EC may be used– see below.
Some of the species used in these mixes may fall under legislation for Wild Flora and Fauna Ornamental, Vegetables or Forage crops.
Wild Flora and Fauna legislation, Council Regulation (EC) No 338/97 does specify certain protection of species of wild fauna and flora by regulating trade in those species, but doesn't set quality or certification standards.
Some seeds (Chicory and Sheep's Parsley) are included in the legislation covering seeds of Vegetables see Article 2 and Annex II of Directive 2002/55/EC. Minimum standards apply for germination and purity.
Sanfoin (Onobrychis viciifolia) is covered in the fodder plants directive – Directive 66/401/EEC. Minimum standards apply for germination and purity.
Ornamentals Directive 98/56/EC Article 5
Without prejudice to the provisions of Article 1 and Article 4, propagating material when marketed:

shall at least on visual inspection, be substantially free from any harmful organisms impairing quality, or any signs or symptoms thereof, which reduce its usefulness,
shall be substantially free of any defects likely to impair its quality as propagating material,
shall have satisfactory vigour and dimensions in respect of its usefulness as propagating material,
in the case of seeds, shall have satisfactory germination capacity,
if marketed with reference to a variety pursuant to Article 9, shall have satisfactory varietal identity and purity.
Any propagating material which, on the basis of visible signs or symptoms, is not substantially free of harmful organisms, shall be properly treated or, where appropriate, shall be removed.
Teagasc do not recommend sowing Wildflowers on farmland
Teagasc do not recommend sowing wildflowers IF the aim is to improve biodiversity ( National Parks and Wildlife Service have expressed concerns on potential negative interaction with native biodiversity). A couple of points about wildflowers:
Very expensive;
Don't grow / persist;
There is NO Regulation of wildflower seed for Provenance; Purity or Germination – leading to fears of the introduction of Invasive Alien Species, no guarantee of germination.
Wildflower species native to Ireland which are not of native provenance are BAD for biodiversity as they may not be in tune with local native Irish biodiversity causing problems with timing of flowering, budding, etc. They can cross-pollinate with locally growing species and alter their genetics.
Native Irish wildflower species of native Irish provenance are NOT regulated for purity and germination and with traceability to show their provenance
Tacid support for sowing wild flowers is sending out a very wrong message –naturally occurring 'weeds' such as dandelions, yarrow, wild clovers and whitethorn (to name but a few).
A zero tolerance should be taken to contamination of blackgrass in seeds sold to tillage farms, or indeed into Ireland. This must come from and be enforced through the Department of Agriculture with the full co-operation of seed suppliers both in the agricultural industry and beyond. A strengthening of legislation of wildflowers seed production and importation is necessary and a voluntary standard should be in place while the legislation is being drafted/enacted.
---