Virtual Crop Walk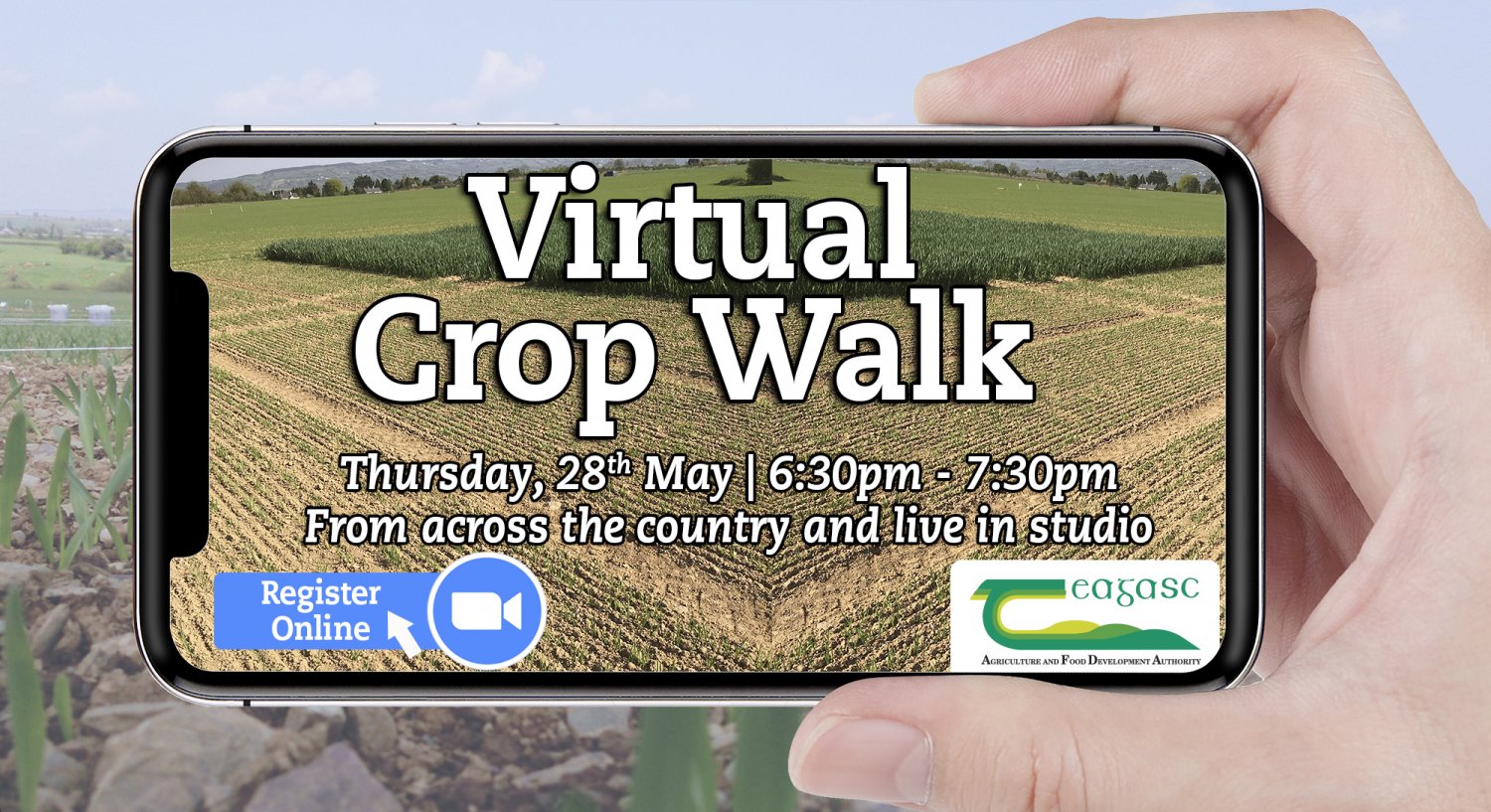 Teagasc will hold its next Virtual Crop walk on Thursday May 28th @ 6:30 pm -7:30pm.
Building on the success of the last Virtual Crop walk this event will have news feeds from Cork, Wexford and Meath.
A panel in the studio (Stephen Kildea, Shay Phelan and Jimmy Staples) will discuss these regional differences and how farmers can best manage crops in their area.
The Virtual Crop walk will discuss
Round up of tillage crops in Ireland
Spring Crops (barley, wheat, oats and beans)
Grass weeds on tillage farms
It is a "live" session so farmers are encouraged to ask questions and comment during the virtual crop walk
Register here for the Virtual Crop Walk
https://us02web.zoom.us/webinar/register/WN_gge0F8p5QlyqYHtQJ8VTEg
---
Plant Protection Product Changes 2020
Chlorothalonil (or Bravo) has been at the heart of protecting plants from foliar diseases for the past 15 years. The registration was revoked on this product over a year ago and from May 20th 2020 Chlorothalinil cannot be legally used in Irish Agriculture. There are a number of other products which also lose their licence this year and growers should be encouraged to use these products (to use them up) in programmes. Where these products are not used these will have to be disposed of at cost to the farmer.
Please create an account to view hidden content
---
Winter Wheat
The frost of last week has slowed down growth in most crops, however flag leaves are emerging on many crops at the moment are so they are at the ideal timing for a fungicide, however some of the late planted crops are still a few days away from the flag leaf being fully emerged. Drought conditions in many parts of the country has slowed down the development of septoria but yellow rust is a problem is susceptible varieties.
Please create an account to view hidden content
---
Winter Oats
Growth in winter oats was slow last week due to the frost but crops are recovering with the increase in temperatures this week. Disease levels are low but there are crops where mildew is evident especially in dense patches within fields. Most crops are approaching heads emerging stage.
Please create an account to view hidden content
---
Grass Weeds
The most problematic grass weed unfortunately have established in most countries across Ireland. At the moment established plants of blackgrass and bromes are heading out to the flowering stage.
The next couple of months are therefore critical to assess the levels of black-grass/bromes on-farm and devise an aggressive pre-harvest/harvest plan.
As flowering heads are out, it makes black-grass identification easier. On the other hand, sterile (and great) brome has a purple drooping heads seen above cereals and around field boundary in June/July. Both these bromes have wedge shaped spikelets with long spreading awns and broader at the tip. The other soft, meadow and rye bromes has upright heads with oval shaped spikelets with shorter awns and narrower at tips. As post-harvest control measures are specific to brome types, accurate identification is critical.
Walk all fields and isolate (map) the issues.
For small in-field infestations, hand rogueing multiple times will prevent seed return. In particular, make every effort to remove

all weeds

Where blackgrass infestations are moderate to severe serious consideration must be given to total crop destruction within the next couple weeks. Waiting to closer to harvest is not recommended as blackgrass seeds will have matured and shed ensuring seed return. Only consider whole cropping (cutting, baling and removing the affected straw) where flowering of the plant occurs close to whole cropping. These actions will potentially save thousands of euro and later man hours in controlling black-grass or bromes in the future.
Machine-hygiene (tractors, combines and balers) is critical to reduce field-to-field transfer of seeds. Time must be allowed to clean down machines before moving from a field infested with black-grass or bromes to an uninfected field to prevent seed spread.
It is always advised to harvest fields with high weed pressure at last in order to avoid contamination. For bromes, if the headlands of a field are heavily infected but the main field was okay, then don't harvest the headlands of that particular field until last.
Finally, draw a post-harvest plan, largely based on preventive or cultural tactics. This includes stale seedbeds, crop rotations, crop choice, drilling dates, use of weed-free certified seeds, and cultivation systems. This needs to be a five-year plan!
Please create an account to view hidden content
---
Spring Barley
Many of this years spring barley crops are starting to struggle from drought stress, particularly crops on light soils in the east and north east of the country. The majority of spring barley has received a fungicide application and crops are generally clean. Further south in crops that received more rain rhynchosporium and net blotch are the most predominant diseases. Low levels of BYDV is evident in some crops. Advanced spring barley is at GS 33.
Please create an account to view hidden content
---
Spring Wheat
Most spring wheat crops are growing well with advanced crops at GS 33 but there are reports of patchy crops due to poor germination in dry soils. Most crops have received a plant growth regulator and first fungicide application for mildew and yellow rust. There are some reports of mildew but overall disease levels are low.
Please create an account to view hidden content
---
Spring Beans
Spring beans are well established but are in need of moisture. Disease levels are relatively low but there are some reports there are a few reports of of downy mildew. Most crops will receive a fungicide shortly as they approach early flowering.
Please create an account to view hidden content
---
Fodder Beet
Weed control in fodder beet is challenging this year due to dry soils. Most crop have received a first herbicide application but the effectiveness of residual herbicides will be reduced in the second application due to the dry soils. Nitrogen should be applied to take advantage of any rain that will come in the coming days.
Please create an account to view hidden content
---
Spring Oats
Crops are for the most part growing well despite the drought conditions in many parts of the country. Most crops are approaching GS 31/32 and will need an application of a plant growth regulator and a fungicide. Most have received all their nitrogen allowance at this stage.
Please create an account to view hidden content
---
Potatoes
Crops have been badly hit with the frosts last week, while most plants will survive it is likely that they will be delayed in their development. Herbicide applications have been very challenging with most applied to dry soils unless irrigation was available. This will probably have an impact on weed control for the remainder of the season.
Please create an account to view hidden content
---