Nitrate directive changes
There are a number of changes to the nitrates directive that will affect tillage farmers this spring. Some of the key changes for this spring include;
No soil test report, no phosphorus allocation. 'From 1st January 2023 all occupiers of holdings on all arable land shall take soil tests and shall assume P index 4 until soil tests are taken'. Max area 5ha per sample.
No herbicide is allowed on land NOT subject to shallow cultivation post-harvest (20 – 25%) before February 1st (Only applicable to Nitrates Zone A counties plus Louth, Meath and Westmeath)
There is no change to the ploughing commencement date of December 1.
Low emission equipment shall be used to apply livestock manure to arable land or the livestock manure shall be incorporated within 24 hours. Pig slurry is low emissions only.
Ploughing or cultivating for non-grassland crops within 3m of watercourses that are identified on the modern 1:5,000 scale Ordnance Survey Ireland (OSi) mapping or better, is prohibited.
For late harvested crops, a minimum uncultivated buffer of 6m shall be put in place to protect any intersecting watercourses. Late harvested crops' includes vegetable crops harvested after 15th September as well as fodder beet, sugar beet, main crop potatoes and maize excluding cereal crops and beans.
Please create an account to view hidden content
---
CAN versus Protected Urea
There is increasing interest amongst tillage farmers in switching from CAN to protected urea this season. Based on current fertiliser prices there are significant financial benefits to using protected urea. Currently protected urea is costing 30% less than CAN.
The environmental benefits of protected urea are well proven with lower nitrous oxide emissions than CAN, a reduction in ammonia emissions when compared to urea and urea has lower levels of nitrate leaching compared to CAN. But the question many growers are asking, what effect will switching from CAN to protected urea have on grain yield?
To answer this question Roche et al., 2016 conducted field experiments in a long term free draining loam spring barley site in Co. Wexford. The trial was conducted over three seasons, 2013, 2014 & 2015. Three nitrogen sources were compared, CAN, Urea, Protected Urea (Urea + NBPT) and an unfertilised control. 150kg/ha nitrogen was applied in 2 splits, 30kg/ha at sowing and 120kg/ha was applied at mid tillering.
The results showed that grain yield was similar for all fertilisers but on average protected urea yielded 0.3t/ha more than CAN.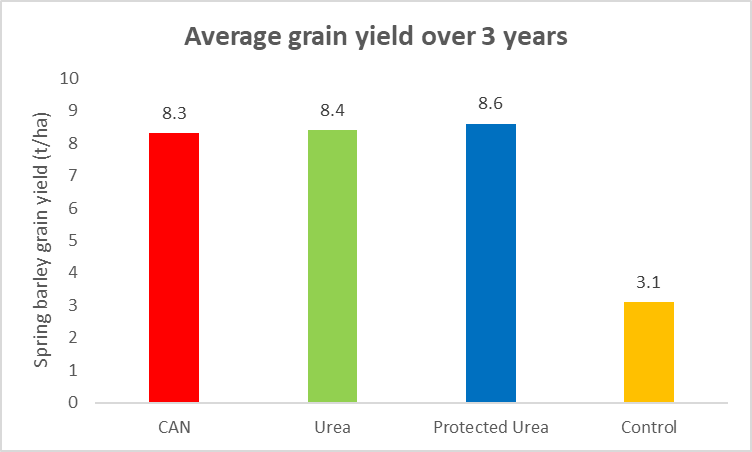 Spreading
Urea is less dense than CAN making it more difficult to spread evenly at wide bout widths. Therefore it is crucial that the fertiliser spreader is set up correctly in line with manufactures recommendations for the specific product being used. Trays should always be used to check the spread pattern in the field.
Summary of results here
Further reading - Ammonium Fertilizer Reduces Nitrous Oxide Emission Compared to Nitrate Fertilizer While Yielding Equally in a Temperate Grassland
---
Spring sowing of winter wheat varieties
Autumn 2022 was a difficult season to plant winter cereals. Reasonable progress was made in the north east where the majority of the intended wheat area was sown. However sowing progress in the south was hampered by wet weather resulting in some farmers with winter wheat seed in stock.
Previous research in Teagasc (2003 & 2004) showed little difference in yield between winter wheat varieties sown up to mid February when compared to spring wheat varieties. A later variety trial (sown Feb 23) in county Cork in 2013 showed a slightly higher yield in the winter wheat control varieties (Einstein/Cordiale 9.26t/ha) compared to the spring wheat control varieties (Granary/Sparrow/Trappe 8.86t/ha).
Vernalization is the induction of a plant's flowering process by exposure to the prolonged cold temperatures. Previous experiments have shown that vernalisation not really an issue for winter wheat varieties sown before mid-February but only faster developing should be sown after mid-February any it is recommended not to sow winter wheat varieties in March.
Development and maturity will be slower than spring varieties sown at same time therefore complete sowing before mid-February to avoid a late harvest. ​
---
Spring seminars February 2023
A series of spring tillage seminars will take place during January and February. Topics covered will include;
CAP and ECO scheme measures
Nitrates directive – key changes
Spring crop choices
Local agronomy issues.
Venues and dates of spring tillage seminars 2023

| | | | |
| --- | --- | --- | --- |
| Laois | Portlaoise Advisory office | February 1 | 19.30 |
| Wicklow | Arklow, Bay Hotel | February 2 | 19.30 |
| Wexford | Horse & Hound Ballinaboola, New Ross | February 2 | 19.30 |
| Carlow | Mt Wolseley, Tullow | February 7 | 19.30 |
| Kilkenny | Teagasc office, Kilkenny | February 8 | 19.30 |
| Offaly | Tullamore Court Hotel, Tullamore | February 22 | 20.00 |
| Donegal | An Grianán Hotel, Burt | February 23 | 20.00 |
Winter Crop Walks February 2023
A series of winter crop walks will take place around the country dealing with current agronomy issues as well as introducing some of the new regulations that farmers need to be mindful of this spring. See the table below for the list of walks in February;
Venues and Dates of Teagasc Winter Crop Walks
| | Location | Eircode | Date | Time |
| --- | --- | --- | --- | --- |
| 1 | Vincent Macken, Brownstown, Navan, Co. Meath | C15 E9E4 | February 8 | 11.00 am |
| 2 | Teagasc Oak Park, Co. Carlow | R93 XE12 | February 14 | 2.00 pm |
| 3 | Philip Cash, Mayglass, Bridgetown, Co. Wexford | Y35 N2P7 | February 15 | 11.00 am |
| 4 | DAFM Ballyderown, Co. Cork | P61 HN32 | February 16 | 11.00 am |
| 5 | Derek Keeling, Traille House, Oldtown, Co. Dublin | A45 XR12 | February 16 | 2.00 pm |
| 6 | Teagasc, Kildalton, Pilltown, Co. Kilkenny | E32 YW08 | February 17 | 11.00 am |
| 7 | Michael Grace, Ovidstown, Donadea, Co. Kildare | W91 A004 | February 23 | 11.00 am |
| 8 | Peter Lynch, Garshooey Newtowncunningham | F93 ET89 | February 24 | 11.00 am |
For more details click on the link Teagasc Events
---
National Tillage Conference 2023
The recent National tillage conference which was held on the 25th January was the first held in person since 2020 and it was also a hybrid event with some of the sessions available online through Zoom.
Split across five sessions, content delivered included;
Cereal Disease management
BYDV survey and insights on viral transmission
Future added value opportunities in the plant protein space
Integrated weed management
Research Insights providing a snapshot of additional projects underway
Each 45min session will conclude with an interactive discussion with audience engagement.
To view some of the sessions from the conference click on the link National Tillage Conference 2023
---