Herbicide Resistance
Herbicide resistance is defined as 'the evolved ability of a weed population to survive a maximum dose rate of herbicide that was previously known to be lethal'.
Resistant weed populations may by-pass the herbicide action by two mechanisms: target-site resistance (TSR), where simple mutations prevent the herbicide from binding effectively to its site of action and non-target site resistance (NTSR), where complex multigenic changes, allow the weed to metabolically detoxify or degrade the herbicides to an extent where they are ineffective.
Resistance is further exacerbated by the lack of alternative herbicide types, forcing growers to repeatedly use the same active ingredients.
Herbicide resistance is a global problem with 500 unique resistance cases being reported, globally until 2019.
Herbicide Groups A (ACCase) and B (ALS) pose a very high risk of resistance.
NTSR has been reported to be the common type of resistance to glyphosate, and also plays a key role in resistance to ACCase and ALS inhibitors. Although, NTSR is slower to develop, NTSR resistant weeds are widespread in major tillage crops. For example, chlorotoluron and pendimethalin actives can affect NTSR to some degree.
Herbicide resistance can also occur through spread of resistant genes, in contrary to independent-endowing mutations.
Sensitivity tests are valuable to provide direction to correct management strategies
First Report on Assessing the Severity of Herbicide Resistance to ACCase Inhibitors Pinoxaden, Propaquizafop and Cycloxydim in Six Wild Oat (Avena fatua) Populations in Ireland
Spring wild oat populations were tested for resistance to ACCase inhibitors pinoxaden (DEN or Axial) , propaquizafop (FOP or Falcon) and cycloxydim (DIM or Stratus Ultra) was investigated in populations of six Spring wild oats, Avena fatua collected from cereal-dominated rotations in Ireland.
Glasshouse assays confirmed reduced sensitivity to all three ACCase inhibitors in four of the populations tested. R1 population was cross-resistant to pinoxaden and propaquizafop and R6 was resistant to propaquizafop only.
Dose-response studies confirmed significant differences in resistance levels amongst these populations (P < 29 0.05).
For pinoxaden, the ED50 or GR50 resistance factor (RF) of population R1, R3 and R5 were between 11.6 and 13.1 times or 25.1 and 30.2 times more resistant, respectively, compared with the susceptible populations.
For propaquizafop, the ED50 or GR50 RF 32 of populations R1, R2, R3, R5 and R6 were between > 7.8 and > 32 or 16.6 and 59 times more resistance, respectively compared with the susceptible populations.
For cycloxydim, only population R5 had both the ED50 and GR50 RF exceeding > 43.2 and 98.4 times compared with the susceptible populations.
In population R2, although the ED50 values to both pinoxaden and cycloxydim and additionally, population R3 to cycloxydim, were above recommended field rates, their GR50 values remained below, suggesting a shift towards cross resistance.
While population R4 was the only population, where both ED50 and GR50 for all ACCase inhibitors remained below recommended field rates, but they would not give effective control at these rates, strongly indicating evolving resistance.
This is the first study reporting variable cross-resistance types and levels to ACCase inhibitors in A. fatua from Ireland.
The full results are available here
Grassweed Herbicide Resistance 2021
The ECT project has collected plant seeds from around the country both as part of a large survey of growers and also from concerned industry, agronomists and farmers.
To date, 34 field populations of wild oats have been identified with herbicide (ACCase) resistance, since the first case was verified in 2016. To investigate the linkages between management actions, weed pressure and the incidence of resistance further, a nationwide survey of 145 farms was conducted from June to September 2020 as part of the on-going ECT project.
The survey included a questionnaire, grass weed assessments, and the collection of seed samples for herbicide resistance testing.
Glasshouse studies on 12 populations of sterile brome, identified a larger variation in susceptibility within and between populations to reduced rates of ALS-meso+iodosulfuron (Pacifica® Plus®) or ACCase-cycloxydim (Stratos Ultra®). This may indicate resistance evolution, which will likely accelerate with the repeated use of rates lower than the recommended label rates.
Studies with 14 populations of black-grass indicate the presence of resistance to both ACCase and ALS herbicides.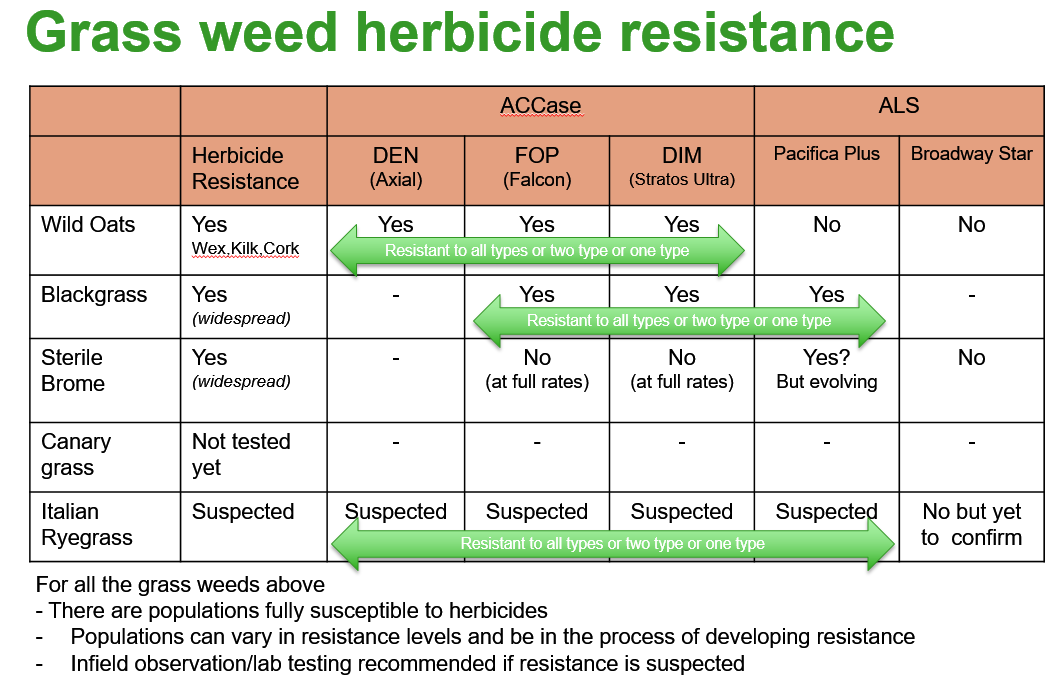 To limit the spread of resistant grass weeds, an integrated management approach with judicious herbicide use (e.g. using label rates) must be deployed to minimise seed return and ensure effective control with a limited herbicide armory remains possible in the future.
Anyone who suspects that they have a herbicide resistant grass weed on their farm can send samples into the Enable Conservation Tillage project in Oakpark. When submitting a sample for testing please fill in the information on the Grass Weed Seed Collection Form and follow the sampling protocol to ensure that the sample provided is suitable for testing.
---